---
Stats are updated through (12/31/69).
---
Player Statistics
These Stats are made available to our members so they can track their performance during the season.
These stats are meant to be fun and informative.
Enjoy!
Prior Seasons
Only the 2016 season and forward is available. The 2015 season will be shown once it is entered into the database.
Help?
Be sure to consult the Help section for info and other helpful tips.
Features on the "Main Stats" Tab
More information about the new and improved Stats can be found in the
Stats Help
section.
---

The
Main Stats
has a clean interface and a "bird's eye" view showing statistics across different categories in one page.
---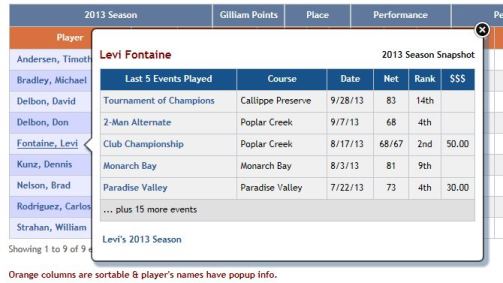 Hover over a player's name for a popup information box showing a snapshot of the player's season.
---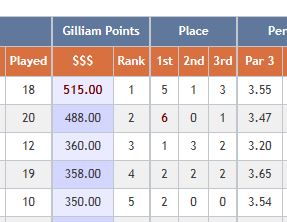 Columns are sortable by clicking on the orange columns. Clicking multiple times will toggle between ascending and descending.